List of Long-Established Private Investigators in Singapore With Good Reviews [2023]
24 September 2023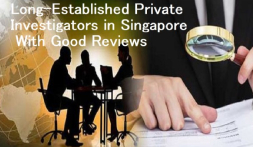 Listen closely. Singapore, with its dazzling skyline and bustling streets, is not just a paradise for tourists. It's a city of secrets. Secrets that every so often need unveiling. And who better to unveil these secrets than the city's finest private investigators? The shadows of the Lion City are their playground. Their arsenal? A keen eye for detail, unmatched intuition, and an unwavering sense of justice.
These private investigators don't just solve cases. They peel back the layers of the city, one secret at a time. They plunge into the depths of corporate corruption, they navigate through personal matters delicately, and they swiftly bring cheating partners to the light of day. Not all heroes wear capes, some carry a magnifying glass.
This isn't a tale from a detective novel. This is reality. And in this real-world scenario, private investigators play a pivotal role in uncovering the truth. So, let's delve into the world of Singapore's well-established sleuths, who have been around the longest.
Unveiling the Long-established Private Investigators in Singapore with Good Reviews
Singapore's long-established private investigators stand out with their exceptional skills and credibility. Here are the names: